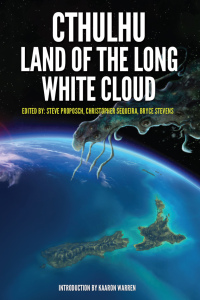 My imagination seems to like hanging out at the dark end of the street, probably wearing a leather jacket and smoking in an attempt to look cool. But I've never written anything specifically Lovecraftian, at least not on purpose.
Until now.
I'm thrilled that my story 'A Brighter Future' is part of the latest collection of Antipodean horror from IFWG, Cthulhu Land of the Long White Cloud. This is a fantastic collection featuring a whole bunch of scary kiwis.
If you live in Auckland, you'll already know that Armageddon is coming – 19-22 October to be precise. There's a Cthulhu Land of the Long White Cloud panel at 3PM on Sunday. I'll be there, along with some other fine folk. Come and say hi.
In this collection we find an Aotearoa with the proud history, myths, and legends of the Māori, and the impacts of the white settler's later presence, and the blended society that encompasses both, but we see the shadow of other things.

Herein lies the cosmic horror of the Old Ones of the Cthulhu Mythos in an anthology featuring Lovecraftian tales from some of New Zealand's finest speculative fiction writers.

Stay brave. Because here there be monsters.

Tales of terror by:
Debbie & Matt Cowens
J. C. Hart
David Kuraria
Tracie McBride
Paul Mannering
Lee Murray
Jane Percival
Dan Rabarts
Grant Stone
Lucy Sussex
Marty Young

Introduction by Kaaron Warren.

Cover art and design by Steve Santiago, and skilfully edited by Steve Proposch, Christopher Sequeira, and Bryce Stevens.
Do we have time for a song?  I think we have time for a song.