Shortcuts Track 1 : Strange tales of Aotearoa New Zealand
Available in November, all Shortcuts Track 1 novellas, collected and in print for the first time.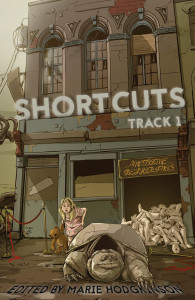 Lee Murray and Piper Mejia : Mika
A.C. Buchanan : Bree's Dinosaur
Grant Stone : The Last
I.K. Paterson-Harkness : Pocket Wife
Tim Jones : Landfall
Octavia Cade : The Ghost of Matter
Plus a gorgeous cover by K.C. Bailey
Preorder now and you could win! See Paper Road Press for more details.